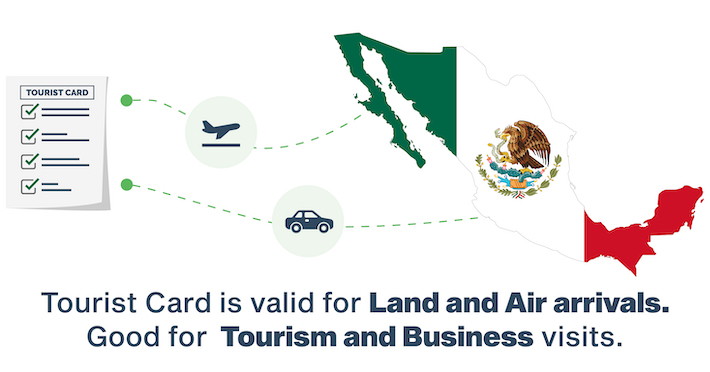 Over the years, Mexico has evolved into one of the most-visited countries in the world. Vacationers from Spain and all parts of the globe can have a wonderful time when they arrive at their chosen destination in this nation. It also boasts of several historical and archaeological sites that attract innumerable tourists every season. Visitors from Spain will have to acquire a Tourist Card to enjoy a fabulous Mexican vacation. They won't need a visa to visit Mexico.
Once you have decided to go on a Mexican vacation, you should apply for the Mexico Tourist Card. Obtaining the Card is easy because you can apply for it online. If you are applying for it online, you just need to be a little careful because inaccuracies can lead to the rejection of the Mexico Tourist Card application. Once processed, you will receive the card at the email address that was mentioned in the application form. Applying for the Card online can be the best option because your airline may not permit you to apply for it during the flight.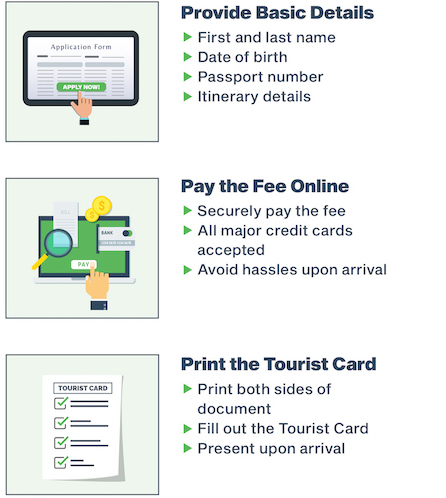 Acquiring a Mexico Tourist Card
Spanish travelers will need a Mexico Tourist card to enjoy a holiday break in Mexico. You need to follow certain steps to acquire the Card online, and they are mentioned below:    
When you fill the online application form, just ensure that the details shared are accurate.
Keep your Spanish passport handy as you will need it to finalize the application form. 
No need to upload any documents while filling the form.
Once processed, you will receive the soft copy of the Card at your email address.    
Upon receipt, take out printouts of both sides of the Tourist Card. The printed copies can be in "color" or "black & white", but they should be readable. Carry them along when you board the flight to Mexico. You will have to present them at an immigration counter after arriving at a Mexican airport.  
Advice for Travelers from Spain
Spanish travelers will undoubtedly have a great time once they reach Mexico. They can enjoy everything that this beautiful country boasts of. However, they shouldn't spend their time on employment or any professional activities during their stay. They need to submit their travel details such as the flight numbers and air tickets when they apply for the Tourist Card.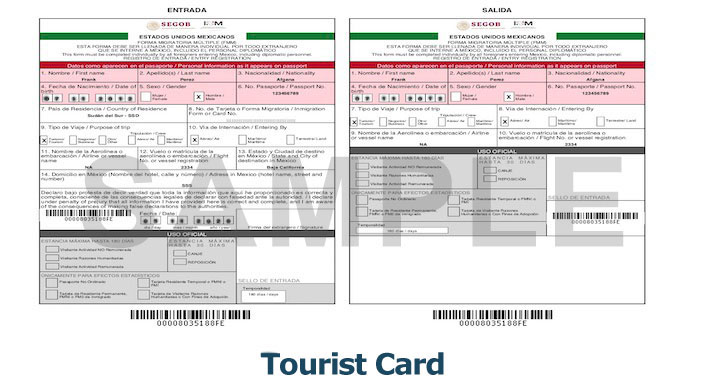 Documents Necessary for Card Application 
The process of Mexico Tourist Card application is simple and convenient. However, you will need certain documents during the application, and they are given below:    
The Spanish passport that you would use during the Card application. It should be valid for at least 6 months from the day you travel to Mexico.  
Take out readable printouts of the Tourist Card once it is received. If you don't have one before your journey, you can apply for it when you are on the flight. You can also apply for it once you reach an airport in Mexico. 
Make sure that the personal details shared in the application form match the Spanish passport that you would carry during the trip.
Entering Mexico as Spanish Tourists  
Being excited about the next Mexican vacation is completely fine; but, don't forget to carry all the necessary documents with you when you board the flight. The documents that you can't afford to miss are your Spanish passport and printouts of your Tourist Card. Once you arrive in Mexico, you will have to show these documents to the immigration personnel present at the airport.