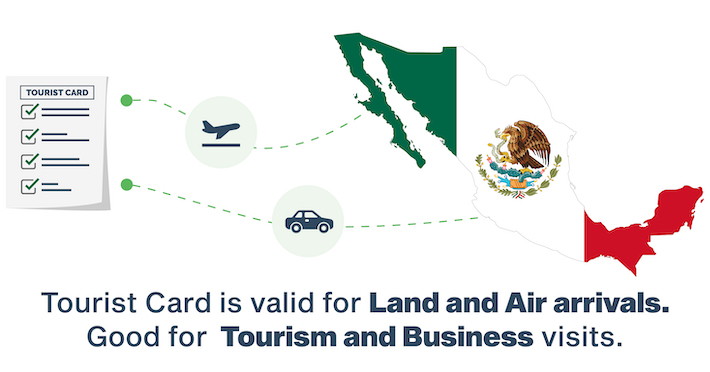 Reaching through to the Mayan ruins and dense forests to virgin Pacific Coast surf seashores and the delicious disorder of Tijuana — and all that is in the midway! Explore through Mexico City's vivacious verve and aesthetic, graffiti-decorated precincts, find out about the Mayan culture at Chichen Itza and relish on scrumptious tacos, tostadas, and tamales (just some of Mexico's many local cuisines).
For Nepalese citizens, who have been looking forward to touring this unusual country, a Mexico Tourist Card is required, besides a visa. Since it is online, the application process is not at all difficult or laborious. This travel document is granted by the National Immigration Institute only for tourism-driven travel. Only one person can travel on one Tourist Card. Travelers from Nepal will not be allowed entry into Mexico without a visa. They must touch base with the embassy to apply for the Mexico visa.
For Nepalis to enter Mexico via road or air, a Mexico Tourist Card is mandatory. Since the entire process has become online in 2015, it has become easy for tourists to apply online. The Tourist Card for Mexico is mailed to the applicants on their email id, cited in the online form. Travelers also have the choice to apply for it, not later than 30 days after they arrive in Mexico. However, the online mode of applying is highly recommended.

Nepalis Applying Online for a Mexico Tourist Card
Citizens from Nepal just need to follow these steps to apply for a Tourist Card using the electronic system: 
Filling it Online: Travelers are required to enter all their particulars online. After they are done, they need to check for errors, if any. 
Do Not Submit Documents: No documents have to be uploaded all through the online process. A valid passport number, however, must be mentioned in the form.
Payment of Charges: After the essential information has been entered, the fee needs to be paid. A credit or a debit card is the mode of this payment. The Tourist Card is mailed to the address given in the form.
Travelers are fundamentally required to keep with them both sides of the printout of the Mexico Tourist Card, on their trip to Mexico. These are checked by the immigration authorities at the airport. 
Applicants Must Know This
Travel lovers must keep in mind that the Mexico Tourist Card permits only tourism-related travel. Travel aimed that any paid activities are prohibited. Citizens from Nepal must carry print copies of their Mexico Tourist Card to enter the country through any Mexican airport. They also must submit details like airline name and flight number of the arrival flight to Mexico.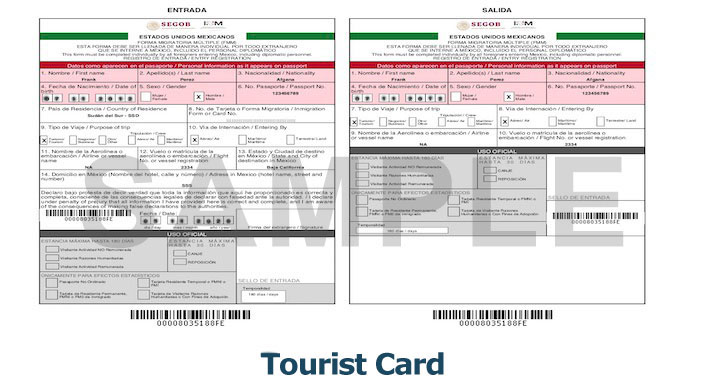 The 'No Upload' Process
No document is to be uploaded, in the online application process. However, the following are required: 
A Nepalese passport with a minimum validity of 180 days 
Flight information related to their arrival in Mexico
Here's How to Enter Mexico
For seamless entry into Mexico, citizens from Nepal must have Mexico Tourist Card, a visa and their valid passport. All these are principal documents for visitors to present at the Mexican airport. These documents are validated by the immigration authorities at the airport.
Nepalis must ensure that the passport they carry is the same that was used while applying for the visa and is valid for 180 days.
Mexico Visa and its Application
You may be traveling to Mexico for any purpose; for tourism, on a holiday, as an explorer or on an excursion, a valid Mexico Tourist Visa and a Tourist Card are inevitable. The same holds for those in transit. It is very easy to apply for a visa from any Mexican embassy across the world. On top of that, citizens of Ukraine, Turkey, or Russia can also avail the online facility for application. If you belong to any of these countries, the Electronic Travel Authorization (Sistema de Autorización Electrónica, SAE) is the website you can use to apply online for a Mexican Tourist Visa.
The processing time for a Mexican visa is different for different embassies based on location. This time can range from 2 days to 4 weeks. Hence it is wise to book an appointment for a Mexico visa, weeks before the planned travel.
It is possible to apply for a Mexico visa at a Mexican embassy in your country (or the country where you are stationed). The steps of application are:
Touching base with the Mexico embassy to get an appointment
Populating the Mexico Visa Application Form
Collating crucial documents
Submitting the application
Visa fee payment
It is astute to check the Mexico embassy website to know the processing time for your visa. Embassies generally advise applicants to schedule their appointment at least four weeks before their trip.