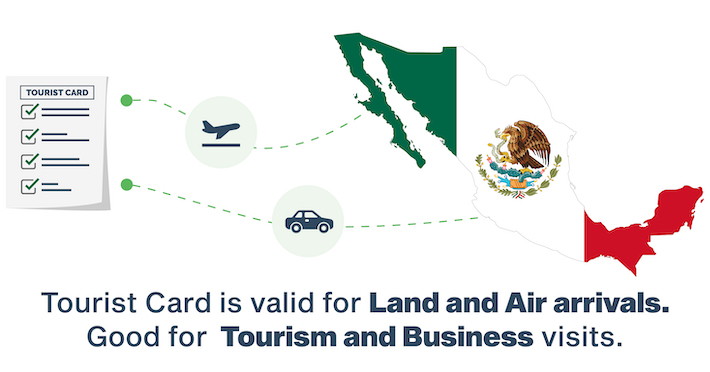 Iraqi citizens have numerous fun things to do in Mexico, such as dolphin and stingray swims, snorkeling among reefs and tropical fish, as well as scuba diving in the world's largest underwater museum, a spectacular collection of sculptures submerged at depths of up to eight meters. To see these spectacular places of natural beauty and a lot more they would require a visa and a Mexico Tourist Card. They can apply online for this document.
The agency that grants this travel document is the National Immigration Institute, specifically for the purpose of tourism. The Tourist Card and the visa, both are mandatorily needed to enter Mexico. To get a visa, keen travelers must contact the embassy.

Whether they are travelling to Mexico by land or by air, Iraqi citizens must have a Mexico Tourist Card. In 2015, with the electronic process in action, applying online became popular. In this process, applicants receive the Card on their email IDs. Applying online gives the applicants more time because they do not have to visit an embassy or wait in queues to get an appointment. Therefore the online application process is also strongly recommended.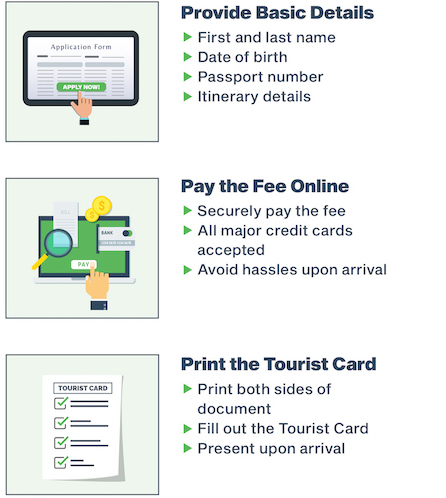 The Mexico Tourist Card Process for Iraq Citizens
It is easiest to apply online for the Mexico Tourist Card. Let's see how it works: 
Filling the Application Form Online: 
To begin with, Iraqi travelers need to fill in their information online and then check the information for mistakes or errors. 
No Document Submission: 
Applicants need not upload any document when applying online. They only need to submit a valid passport number.
Pay Fee: 
Paying the fee is the last step of this process. This is done using a valid credit or a debit card.
When applying online, applicants also need to enter their email ID. After it is processed, the Mexico Tourist Card mailed to the applicant.
It is advisable for travelers to keep printouts of both sides of this travel document with them on their way to Mexico. The immigration officials at Mexico airport would ask for these. 
Information that Applicants Need to Know
Applicants should know this:
The Mexico Tourist Card only allows its holders to engage in tourist activities. It deems illegal to indulge in any business or paid activities such as job or professional services.
Visitors from Iraq should carry hard copies of this document when they enter the country through any Mexican airport.
The online application process also requires travelers to enter their flight tickets numbers and airline details in the form.
Fundamentally Required Documents
Even though Iraqis are not required to upload any type of document when applying online, these are required: 
A passport with a validity of 6 months or 180 days since they arrive in Mexico.
The airlines and ticket information about the arrival flight to Mexico.
Do This When Reaching Mexico
Visitors from Iraq must carry three documents with them before they reach Mexico:
A Mexico Tourist Card
A visa
A valid passport
To run through, a visa is also required in addition to the other two documents. These documents are examined and passed by the immigration officials before the travelers are let into Mexico. As far as the passport is concerned, it must be the same one used in the online application and must have six-month validity.
Applying for a Mexico Visa
Those bound for Mexico, be it on recreation or easy travel, or in-transit, must requisitely have a legitimate Mexico Tourist Visa and a Tourist Card. They can apply from a Mexican embassy in any country for a Mexico visa. Turkish, Russian, or Ukrainian applicants can also use the online application system. In their case, they can apply for a Mexican Tourist Visa online through the Electronic Travel Authorization (Sistema de Autorización Electrónica, SAE) is easy.
The period taken to process a Mexico visa is different for every Mexican embassy. Therefore, it is better that Applicants book an appointment with the respective Mexico embassy to apply for a Mexico visa at least 4 weeks prior to their decision to travel.
A Mexico visa can be applied for at a Mexican embassy in the applicant's home nation (or in another country). The procedure for applying includes the following steps:
Book an appointment with the Mexico embassy  
Filling the Mexico Visa Application Form
Preparing the relevant documents
Application submission
Paying for the visa
Applicants can refer to the Mexico embassy's website for details on the time taken to process a Mexico visa. Also, applicants can speak to the embassy officials to get this information. It is important to know this since every embassy has a different timeframe for visa processing. One embassy might take 2 working days, whereas the other might take 10 working days. By the way, some embassies suggest that applicants must schedule their appointment at least four weeks before their travel.