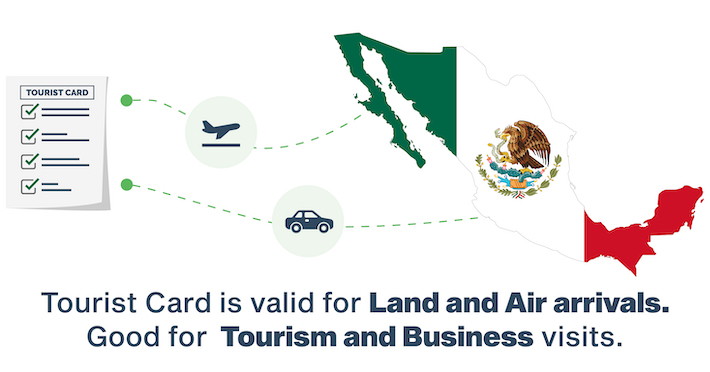 Playa del Carmen boasts a hip food scene, with eateries dishing out everything from delectable tacos and tostadas to sushi and expertly cooked seafood, plus an even hipper bar culture. There are many Guyanese citizens who are waiting to explore this beautiful country. Acquiring a Mexico Tourist Card can make this happen. Since this document is mandatory, it has been made easy to apply online. The government body that approves and grants it is called the National Immigration Institute. It is only allowed for the purpose of tourism. One must know that the Tourist Card and a visa are completely different documents and citizens from Guyana need both to travel to Mexico. Hence, for them, both the documents are mandatory.

Both the travel documents are essential to travel to Mexico via an on-road vehicle or by a flight. In 2015, the country implemented the online application system for this travel document, which has made it easier to visit Mexico. After processing, the Mexico Tourist Card is sent to the applicant's email id. The benefit of this online process, which is highly recommended, is that the applicant does not have to go anywhere. All that is required is a computer with an internet connection. 

Applying Online for a Mexico Tourist Card
The online process is full of convenience and ease. Let us understand the steps involved: 
Entering Information Online: 
Guyanese travelers must enter the information asked for precisely. Care must be taken to fill the form so that no errors are committed. 
No Softcopies to Upload
: The online process does not require the applicant to upload soft copies of any document.
Passport Number:
The applicant's valid passport number must be entered.
Payment of Fee: 
A valid credit or a debit card is to be used to pay the fee.
The final Tourist Card is mailed on the ID mentioned in the form.
It is advisable to take prints of both sides of this document. The immigration authorities at the country's airport go through this document. 
Know This if You are an Applicant
Travelers must be apprised of the fact that the Mexico Tourist Card only allows them to visit the country as tourists. It does not allow them to engage in any activity that results in payment such as job or professional services. Visitors from Guyana must carry the printouts of both sides of the document that they had earlier taken when they enter the country. While applying online, applicants also need to provide their flight details.

No Documents to be Uploaded
The online process is a document-free one. However, Guyanese citizens must possess the following: 
A valid Guyanese passport with 6 months of validity after their arrival date in the country.
Flight details about their arrival in Mexico, such as airline name and flight number.
Reached Mexico – What Next
Guyanese travelers must have a Mexico Tourist Card, a visa and their valid passport for problem-free entry into the country. Upon reaching a Mexican airport, the immigration officials will go through all these documents. The passport present must be valid for 180 days and must also be the same one that was used when applying online.
Fundamentals of the Mexico Visa Application
For those making a beeline for Mexico on travel, adventure, or in-transit, must ascertain that they have a valid Tourist Card and a Mexico Visa. They can apply for a Mexico visa from any Mexican embassy in their home country or the country where they are staying in. People from Turkey, Russia, and Ukraine have an edge of applying online. They can use the Electronic Travel Authorization (Sistema de Autorización Electrónica, SAE) to apply for a Mexican Tourist Visa online.
The time taken to process a Mexico visa differs at every Mexican embassy, depending on their method of operating. Many Mexican embassies can potentially take a different amount of time to process visas. Applicants must therefore book a meeting to apply for a Mexico visa with the Mexico embassy they plan to apply at. They must book an appointment at least four weeks in advance to the date they plan to travel.
Applicants have the flexibility to apply for a Mexico visa at a Mexican embassy in their own country (or from a country of their presence). The application process can be summed up into the following steps:
Scheduling a meeting with the Mexico embassy  
Entering Information in the Mexico Visa Application Form particulars
Collating the appropriate documents
Paying visa fee
Probably, the website of the Mexico embassy from where the applicant has applied would display the visa processing time. If not, applicants can get this information from the embassy officials of the embassy they are applying at. The visa processing time may run from 2 business days to 10 business days, contingent upon the Mexican embassy's location. As a matter of fact, some embassies notify applicants to schedule their appointment at least four weeks before their travel.