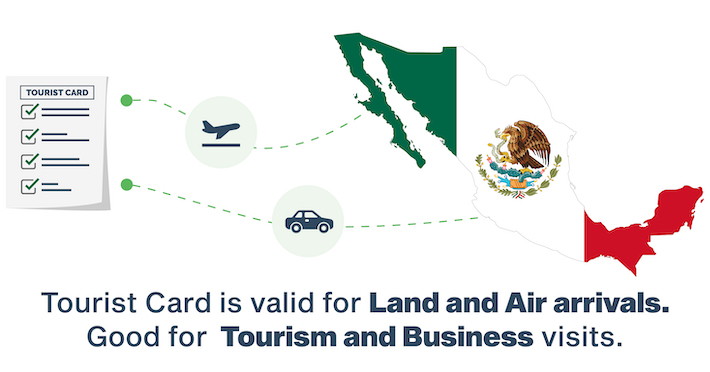 The Gulf of Mexico has scintillating sandy beaches that offer snorkelling besides other adventures. These are just a few of the many tourist attractions that Mexico has to offer visitors. Croatian citizens, waiting patiently to spend a memorable vacation in the country, would need a Mexico Tourist Card and a visa to visit this country of marvels. A single Tourist Card just permits one person to travel on it. More than one person cannot travel on a single Card. It is approved and granted by The National Immigration Institute, mainly to tourists. One must know that a Mexico Tourist Card cannot be used in place of a visa and visitors from Croatia must have a visa before they enter Mexico. In order to apply for the Mexico visa, they need to get in touch with the embassy.

Be it via land or by air, to enter Mexico, travelers must have a Mexico Tourist Card. Ever since the implementation of the electronic system in 2015, the entire process is smooth and hassle-free. For some reason if travelers are unable to apply for it online, that they can also apply for it on the flight that they are traveling on, or within 30 days after they arrive in Mexico.


Online Application for a Mexico Tourist Card for Croatians
The online process is time-saving as well as hassle-free. It comprises of the following steps: 
Filling the Application: 
Croatians must fill the online application form with great care. If the information is vague or has errors, chances are that the form will get rejected. 
Document Upload:
The online application process eliminates the need for uploading any document. The applicants will only need to provide a valid passport number that will get linked to the Card.
Paying the Visa Fee: 
This step completes the entire online application process. Payment of the visa fee is done using a credit or debit card. When it is ready, the Tourist Card is emailed to the applicant on the ID mentioned in the form.
It's a good idea to carry hard copies of this document, if possible, in case issues may arise with the email system.
Printouts of both sides of the Mexico Tourist Card are to be carried by the travelers on their visit to Mexico. They will be checked by the immigration officers at the airport. 
For Applicants to Remember
Mexico Tourist Card allows only tourism-driven trips. None of the Card holders can legally engage in any type of paid activity during their visit. Croatians must keep safely printouts of this travel document when they reach any Mexican airport. At the time of applying, tourists are asked to enter flight details (Airline Name and Flight Number) concerning their arrival in Mexico.


Document-free Process
The online system does not ask for any document to be uploaded. Croatian citizens, during the Mexico Tourist Card application process, must have: 
A Croatian passport, having 180-day validity since they reach Mexico.
Their Mexico landing flight details.
When Reaching Mexico
Upon reaching Mexico, Croatians must keep their Mexico Tourist, visa and their valid passport handy. All these documents go through checks made by the immigration authorities at Mexico Airport. Once again, the passport must fulfil the condition of being valid for 6 months and must be the one that was used to apply for the visa.