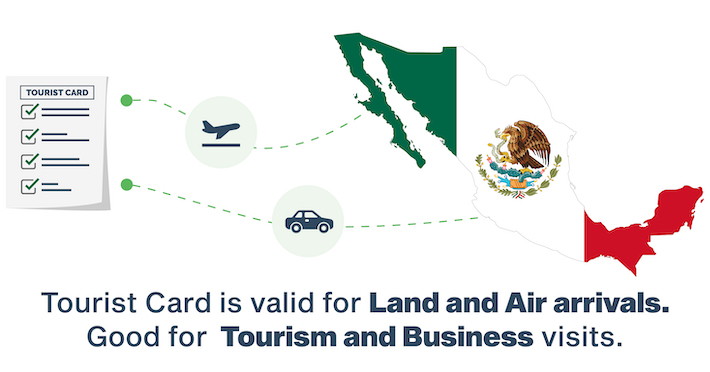 A popular destination on the list of the best places to visit in Mexico is the enigmatic town of Oaxaca – home to colonial architecture and a fantastic Day of the Dead festival. If you are a Chilean citizen keen to spend a great holiday in this place, you would need a Mexico Tourist Card, along with a visa. This Card is accorded by The National Immigration Institute principally for tourism activities. It is to be highlighted here that a Tourist Card cannot be replaced by a visa. Those who are travelling from Chile would, in essence, require a visa to get into Mexico. To apply for the Mexico visa, applicants must contact the embassy.
To gain entry into Mexico via air or land, a Mexico Tourist Card is mandatory. The electronic system that has been implemented in 2015 has simplified the process of applying online for it. Travel aspirants can also apply for it 30 days after reaching Mexico.


The Online Application Process for Chileans
The electronic system makes the entire application process for a Mexico Tourist Card straightforward and speedy. Here is how applicants must apply online: 
Fill the Online Application: 
To begin with, Chileans must fill the online application form. After they have filled it, it is better to take precaution and run through it to ensure that the information is precise and correct. Any slips will cause the application to be rejected. 
No Need to Upload Any Document:
The online process does not require any documents to be submitted by the applicants. A valid passport number, though, needs to be given during the application process.
Online Payment of Visa Fee: 
To close the process, the visa fee is to be paid via a credit or debit card. The Tourist Card is emailed to the applicant on the email id given in the form after it has been processed.
Just in case there may be an issue with the email system, it is advisable to keep a print copy of the travel document, if possible.
This printout must be of both the sides of the Mexico Tourist Card. Travelers must carry it during their trip to the country. The printout may be black and white or colored.
Applicants Must Keep This in Mind
No visits besides those with the objective of tourism are allowed on the Mexico Tourist Card. Any kind of employment or activity that results in payment during this visit is a strict no-no. Chileans should carry printouts of this travel document when they enter the country via any Mexican airport. While applying online, they are also asked for their flight details (Airline Name and Flight Number) of their arrival flight in Mexico.


Submission of Softcopies Not Required
The online system does not include a condition to upload any documents. When travelers from Chile apply for a Mexico Tourist Card, here is what they should have: 
A passport with 180-day validity after they have arrived in Mexico.
Their arrival flight details such as airline name and flight number
Entry into Mexico
To enter Mexico, Chileans would require a Mexico Tourist Card, a visa and a valid passport. The passport must not be valid for less than six months and must be the one that was used to apply for the visa. These documents will be checked by the immigration officials at the Mexico Airport.